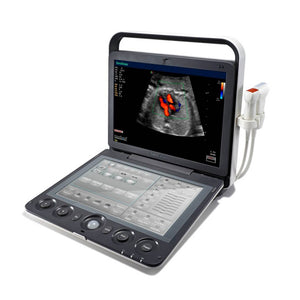 Adventa Medical
Sonoscape S9 Touch
Regular price
40,800.00 AZN
Sale price
55,000.00 AZN
Unit price
per
Sonoscape S9 Touch Screen
24000 USD - 1 probe
26000 USD - 2 probes
Advanced Features for Unparalleled Image Quality
The S9 features the most innovative user-interface and design of all compact ultrasounds on the market. With a full touchscreen interface, the S9 is our most versatile and sophisticated premium portable ultrasound system. The brilliant touchscreen is responsive, ergonomic, and the only one of its kind. Image+ Enhancement enables the S9 to provide premium abdominal and cardiovascular imaging, as well as superb images for nearly every other modality.
Multi-function, Powerful Platform
The S9 is embedded with leading-edge imaging technologies, which have significantly elevated the imaging quality to a new level and revealed more diagnostic information to the clinician.
The S9 is capable of not only rendering superior quality 4D images, but is also excellent for cardiac applications, with advanced imaging techniques including Pulse Inversion Harmonics, E-flow, and Tissue Doppler Imaging (TDI). Working with S9, you will see patient anatomy more clearly, diagnose more confidently, and work more comfortably.
Advanced Features
Automatic Tissue Optimization Technology (ATO) and M-Tuning (1-button scanning) deliver ease-of-use and time savings by automatically adjusting parameters to display the optimal image quality for the type of tissue being imaged.
Complete Doppler Capabilities including Color Flow, Pulsed Wave Spectral Doppler, Steerable Continuous Wave Doppler and Power Doppler.
Multi-parameter Compound Imaging combines multiple coplanar images captured from different beam angles to form an integrated image.
Steerable M Mode allows for precise axis positioning, resulting in extremely accurate measurements.
Panoramic Imaging produces an ultra-wide field of view, providing maximum information on tissue and lesions.
U-scan Technology, the latest advance in Speckle Reduction Technology, reduces noise while increasing border definition and diagnostic confidence.
E-flow uses Advanced Doppler Technology to capture low-velocity blood flow signals, and increase color sensitivity.
Tissue Doppler Imaging enables quantitative assessment of left ventricular systolic and diastolic function.
Super High Density Transducers provide more information in every image enabling the visualization of complex anatomy with superior detail and precision.
Pulse Inversion Harmonics offers numerous advantages over conventional imaging, including improved contrast resolution, reduced noise and clutter, improved lateral resolution, reduced slice thickness, reduced artifacts and, in many instances, improved signal-to-noise ratio.
---